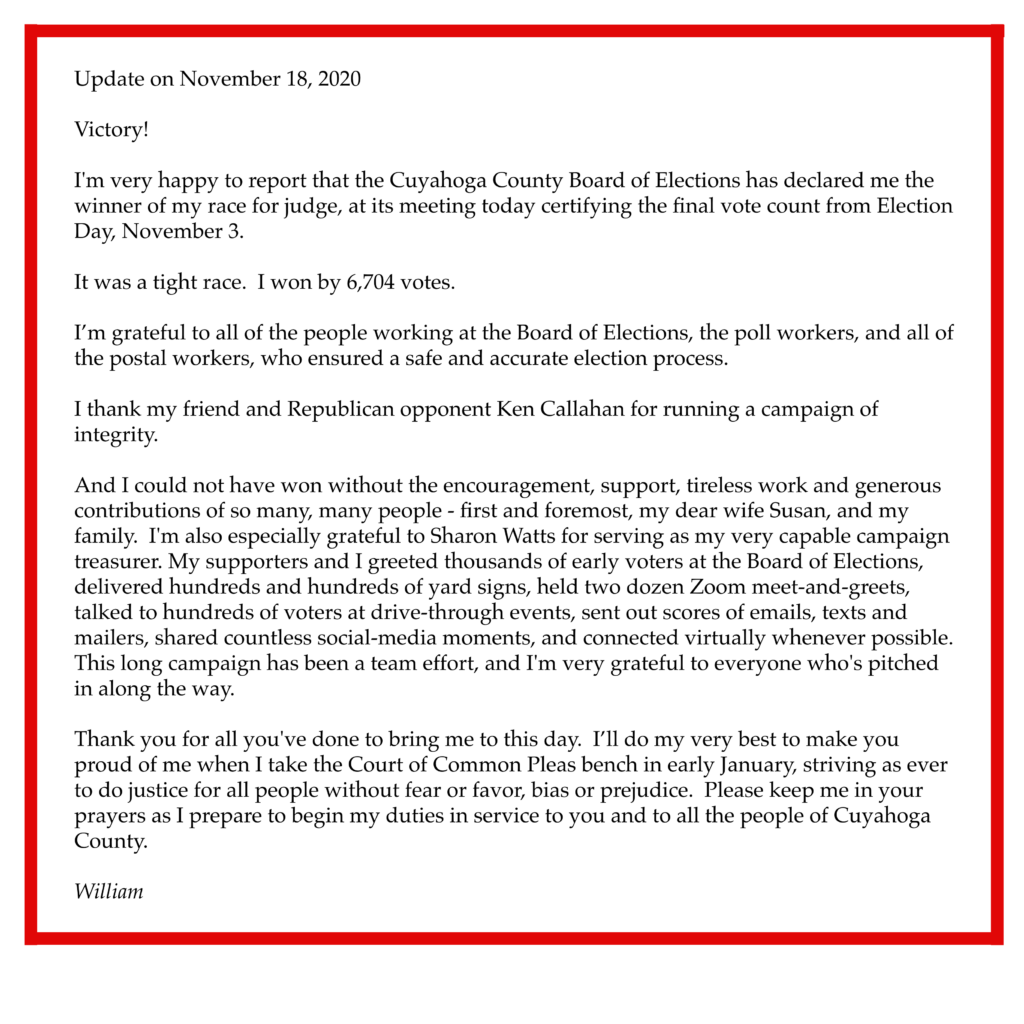 I'm a candidate for the Cuyahoga County Court of Common Pleas in the November 3, 2020 general election.
I've been a Cleveland Municipal Court magistrate for over 18 years.  I'm the only non-incumbent Democratic Common Pleas candidate with experience presiding over jury trials. I have experience as both an assistant Cuyahoga County prosecutor and a Legal Aid lawyer. I have a deep commitment to public service and I hope to bring my experience, skills, and passionate commitment to justice to the Court of Common Pleas.
If elected, I will:
do all in my power to reduce racial and socioeconomic disparities in the justice system. It's no secret that your treatment in the criminal justice system too often depends on the color of your skin and the size of your bank account. We have a moral imperative to change that.
support bail reform and the adoption of the Arnold Foundation's public safety assessment. I believe I am the only candidate trained in this assessment, which is a powerful tool for bail reform and data-driven decision making. Cuyahoga County too often has kept poor, nonviolent suspects in jail before trial because they lacked the money to pay their bail while wealthier people got out. That is not justice, and it has to change.
treat nonviolent, low-level drug offenses as the public health crisis they really are, and not just a reason to incarcerate.
advocate for the specialized dockets of the Court of Common Pleas, including the Veterans Court, Drug Court and Mental Health dockets.
forge closer ties between the court and the Ohio Center for Law-Related Education's mock trial program, in which I've been involved for many years as both a judge and a coach. I believe it's important for teenagers in our county to learn more about the American court system, explore careers in the law, develop their leadership, critical thinking and public-speaking skills.
Thank you for your consideration. In November, please VOTE VODREY!